Loa SONOS Play 5 chính hãng nhập từ USA
Original, bigger room, bigger sound wireless speaker
The SONOS Play 5 uses 5 state-of-the-art digital amplifiers individually coupled with 5 speakers to deliver superior sound to any room. A subwoofer produces powerful bass while two mid-range drivers and two tweeters fill out the sound.
Class-D amplifiers
State of the art, great sounding amplifiers that are lightweight, powerful and very energy efficient in standby and use.
Tweeters
2 tweeters create a crisp and accurate high frequency response.
Mid-range drivers
2 dedicated mid-range drivers ensure the faithful reproduction of mid-range frequencies crucial for accurate playback of vocals and instruments.
Subwoofer driver
Dedicated subwoofer driver provides deep, powerful bass you can feel.
All-digital sound architecture
From the recording studio to your home the music is reproduced as the artist intended. All filter settings, active equalisation, and time-alignment are done in the digital domain through state-of-the-art DSP circuitry so there's absolutely no loss of audio quality or energy.
Acoustic port
The acoustic port on the rear of the unit serves two purposes – it's vital to the sound output of the PLAY:5 when in use and it's also a convenient handle when moving it from one room to another.
Adjustable bass and treble controls
Optimise sound performance using room-specific bass, treble, balance, and loudness controls. Adjust volume by individual room or by groups of rooms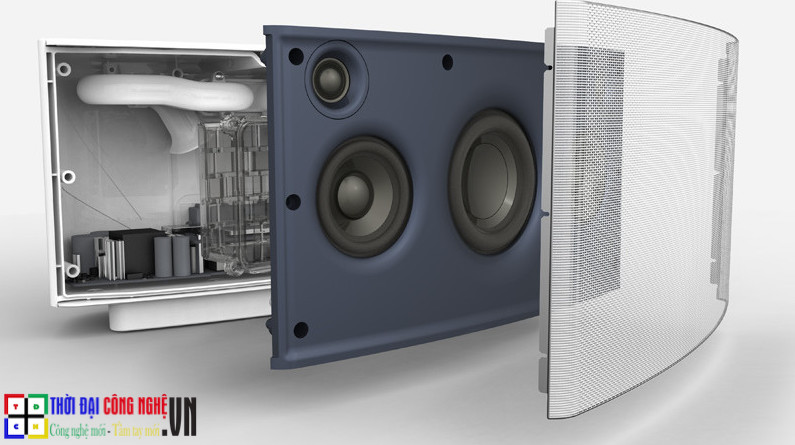 Access all the music on earth
Pre-loaded Internet radio stations, free of charge
Get over 100,000 free radio stations, shows, and podcasts, all for free. And you can tune in without turning on your computer: browse for stations, or type in specific call letters or a radio host you love.
Endless music from the most popular online music services
Sonos works seamlessly with Amazon Music, Deezer, iHeartRadio, JB Hi-Fi NOW, JUKE, MOG, Pandora®, Rdio®, Rhapsody®, SiriusXM™, Slacker® Radio, Songza, Spotify®, Stitcher SmartRadio™, Radio by TuneIn, Concert Vault, WiMP, and downloads from any service offering DRM-free tracks. (Service availability varies by region.)
Computer-free music playback
Get instant access to millions of songs and thousands of radio stations without ripping, downloading, or even turning on a computer. Sonos connects directly to these services over the Internet and then streams the music to the rooms of your choice.
Play the music on your computer in any room
Play music stored on up to 16 PCs, Macs or NAS (Network Attached Storage) devices on your home network, supporting the most popular audio formats, from iTunes® to MP3.
Stream music from an iPhone®, iPad™ or iPod touch®
Sonos wirelessly plays your iTunes® music, direct from your iPhone®, iPad® or iPod touch®, to any room in your home.
Play music and audio from a CD or MP3 player, TV and more throughout the home
An analog audio input lets you connect to an external audio source (such as a CD or MP3 player, TV, DVD, VCR, or radio) and play that music or audio on all Sonos players in the system.
Other cool features
Easy Internet connectivity for other products in your house
The SONOS Play 5 has a two-port Ethernet switch to bring standard Internet connectivity to your set-top box, DVR, PC, game console or NAS drive.
Top-panel play/pause controls
Provides quick access to music, volume and play/pause controls when you don't have a controller to hand. Press the mute button once to start or stop the music and twice to skip to the next track.
Headphone connection
Built-in, auto-detecting connection lets you listen in private with your favorite wired or wireless headphones.
Rubber bottom
Place the SONOS Play 5 on any kind of surface in your home without fear of scratches or scrapes.
Control your Sonos music system with your smartphone, tablet and more
Control all your music and rooms with your Android™ device, iPhone®, iPod touch®, and iPad™
Free Sonos Controller apps for Android, iPhone and iPad let you control your Sonos players, music on the Internet and your computer right from the palm of your hand. Download the apps for free on the iTunes App Store or Google Play™.
Integrated, multi-room control
If you have multiple music players, you can control what music is playing in every room in your house, from anywhere in your house. Sonos Controllers aren't tied to a specific player, so you can use any Controller to control the music and the volume in all your rooms.
Find and play your favourite songs in an instant
Browse or search for songs and stations, choose the music, and control the volume from anywhere in the home.
Wireless connectivity
Android devices, iPhone, iPod touch, and iPad connect to your Sonos system through your home WiFi network.
Includes Sonos Controller for Mac or PC
Turn any Mac or PC desktop or laptop computer in your home into a Controller. The software is included for free with every Sonos component.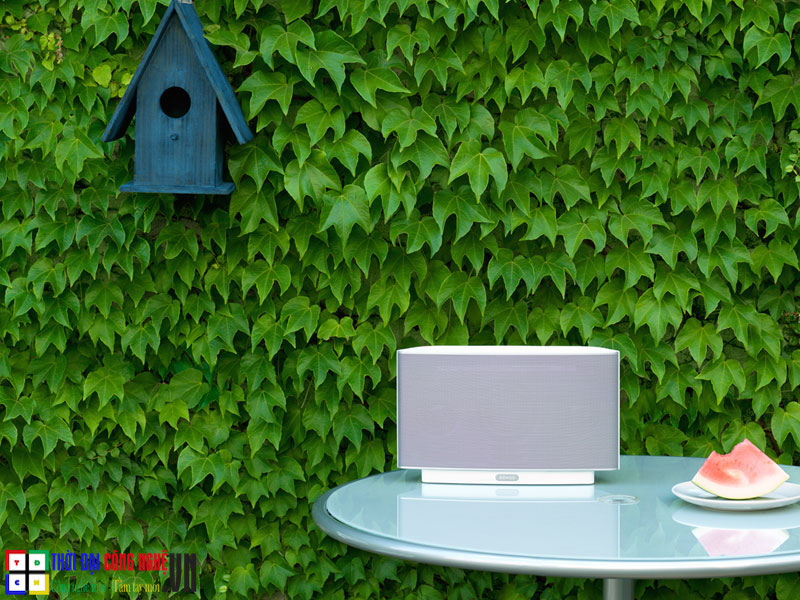 Wireless multi-room music with SonosNet
Built-in wireless capability
The SONOS Play 5 can go anywhere, delivering music to any room in your house, wirelessly. Players and Controllers establish their own secure wireless mesh network that delivers the extensive range and superior performance you need to get music all over your house.
SonosNet wireless mesh network technology
Provides whole-house coverage, ensures synchronous music playback, and avoids sources of wireless interference. Incorporating sophisticated MIMO (multiple input, multiple output) technology, SonosNet uses multiple antennae and radios together to boost signal strength and reach remote locations.
Works with any mix of Sonos components
Compatible with all previous generations of Sonos players, CONTROL, and BRIDGE
Play a different song in every room, at the same time
Tune in to an Internet radio station in the bedroom, stream a music service in the kitchen and play a song from your music library in the living room — simultaneously.
Listen to the same song in every room, in perfect synchronisation
Play the same song in different rooms, simultaneously, without echoes or delays. Add or drop rooms from your rooms grouping and still be in sync.
Simple setup and expandable design
Simple setup
No technical or wireless expertise required. Put a SONOS Play 5 in any room where you want music and connect it to your home WiFi network using the free Sonos Controller App. The Sonos System Setup software provides simple on-screen prompts on any Sonos CONTROL. With the touch of a few buttons, you'll be playing music all over the house in minutes.
Expandable wireless system
Expand your wireless music system room by room. Wirelessly add more SONOS Play 5 to your house with the press of a single button and enjoy true multi-room music.
Simple to move
Built-in carrying handle allows you to move the SONOS Play 5 to the backyard, deck or any other room. Simply pick it up, plug it in, and enjoy the music.
Nhận xét sản phẩm
Thời Đại Công Nghệ .VN khuyến khích quý khách nên bình luận hoặc đánh giá về SONOS Play 5 để chúng tôi phục vụ quý khách tốt nhất.