SONOS Connect AMP chính hãng nhập từ USA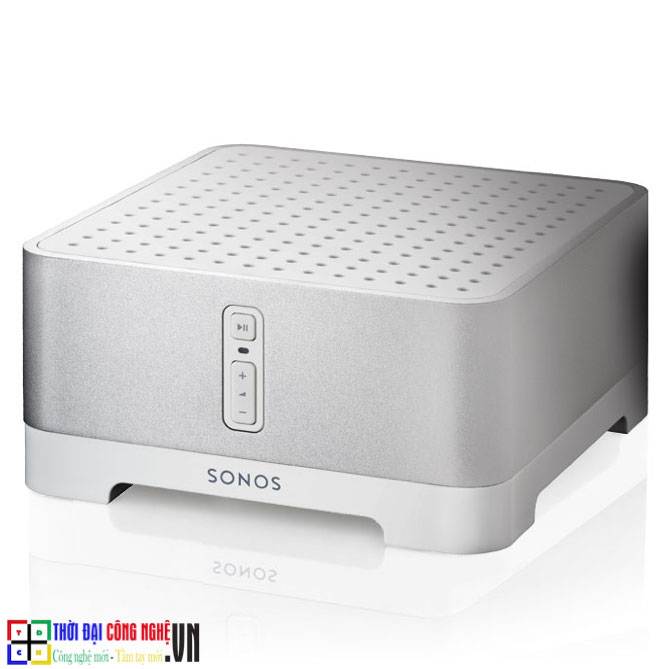 Turn wired speakers into a music streaming Sonos system
SONOS Connect AMP turns your speakers into a music streaming Sonos system. Just attach SONOS Connect AMP to your bookshelf, floor-standing, outdoor, or in-ceiling speakers. With 55W of amplifying power, stream all the music on earth wirelessly to any room. No receiver needed.
Powerful digital amplifier delivers audiophile-quality sound in any room
Built-in, powerful digital amplifier
Powers large or small speakers with 55W per channel.
Class-D amplifier
State of the art, great sounding amplifier is small, lightweight and very energy efficient.
Radiant cooling
Operates silently — all you hear is the music, as the amplifier is kept cool by the aluminum casing, not by a noisy fan.
Tone and volume controls adjustable for each room.
Optimize sound performance for each room using room-specific bass, treble, balance, and loudness controls. Adjust volume by individual room or by groups of rooms.
Subwoofer output with automatic crossover
When adding a subwoofer, the SONOS Connect AMP automatically adjusts the output to send the low frequencies to the subwoofer and the high frequencies to the speaker.
Access all the music on earth
Pre-loaded Internet radio stations, free of charge
Get over 100,000 free radio stations, shows, and podcasts, all for free. And you can tune in without turning on your computer: browse for stations, or type in specific call letters or a radio host you love.
Endless music from the most popular online music services
Sonos works seamlessly with Amazon Music, Deezer, iHeartRadio, JB Hi-Fi NOW, JUKE, MOG, Pandora®, Rdio®, Rhapsody®, SiriusXM™, Slacker® Radio, Songza, Spotify®, Stitcher SmartRadio™, Radio by TuneIn, Concert Vault, WiMP, and downloads from any service offering DRM-free tracks. (Service availability varies by region.)
Computer-free music playback
Get instant access to millions of songs and thousands of radio stations without ripping, downloading, or even turning on a computer. Sonos connects directly to these services over the Internet and then streams the music to the rooms of your choice.
Play the music on your computer in any room
Play music stored on up to 16 PCs, Macs or NAS (Network Attached Storage) devices on your home network, supporting the most popular audio formats, from iTunes® to MP3.
Stream music from an iPhone®, iPad™ or iPod touch®
Sonos wirelessly plays your iTunes® music, direct from your iPhone®, iPad® or iPod touch®, to any room in your home.
Play music and audio from a CD or MP3 player, TV and more throughout the home
An analog audio input lets you connect to an external audio source (such as a CD or MP3 player, TV, DVD, VCR, or radio) and play that music or audio on all Sonos players in the system.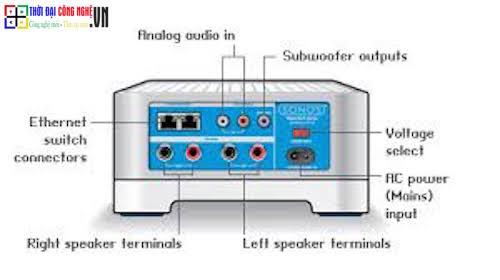 Other cool features
Wake up to music
Set the alarm and wake up to your favourite music or Internet radio station in one room, or all over the house. Just hit snooze to get a few minutes more sleep. Fall asleep to soothing music with the sleep timer.
Schedule your music
Use the scheduler to play music at a specific time for a set duration — great for that 30-minute workout.
Easy Internet connectivity for other products in your house
The SONOS Connect AMP has a two-port Ethernet switch to bring standard Internet connectivity to your set-top box, DVR, PC, game console or NAS drive.
Includes Sonos Desktop Controller software and setup software for your computer
Set the alarm and wake up to your favourite music or Internet radio station in one room, or all over the house. Just hit snooze to get a few minutes more sleep. Fall asleep to soothing music with the sleep timer.
Front-panel play/pause controls
Set the alarm and wake up to your favourite music or Internet radio station in one room, or all over the house. Just hit snooze to get a few minutes more sleep. Fall asleep to soothing music with the sleep timer.
Control your Sonos music system with your smartphone, tablet and more
Control all your music and rooms with your Android™ device, iPhone®, iPod touch®, and iPad™
Free Sonos Controller apps for Android, iPhone and iPad let you control your Sonos players, music on the Internet and your computer right from the palm of your hand. Download the apps for free on the iTunes App Store or Google Play™.
Integrated, multi-room control
If you have multiple music players, you can control what music is playing in every room in your house, from anywhere in your house. Sonos Controllers aren't tied to a specific player, so you can use any Controller to control the music and the volume in all your rooms.
Find and play your favourite songs in an instant
Browse or search for songs and stations, choose the music, and control the volume from anywhere in the home.
Wireless connectivity
Android devices, iPhone, iPod touch, and iPad connect to your Sonos system through your home WiFi network.
Includes Sonos Controller for Mac or PC
Turn any Mac or PC desktop or laptop computer in your home into a Controller. The software is included for free with every Sonos component.
Wireless multi-room music with SonosNet
Built-in wireless capability
The SONOS Connect AMP can go anywhere, delivering music to any room in your house, wirelessly. Music players and controllers work on your home WiFi network, or they can establish their own secure wireless mesh network that delivers the extensive range and superior performance if your home WiFi isn't reliable enough.
SonosNet wireless mesh network technology
Provides whole-house coverage, ensures synchronous music playback, and avoids sources of wireless interference. Incorporating sophisticated MIMO (multiple input, multiple output) technology, SonosNet uses multiple antennae and radios together to boost signal strength and reach remote locations.
– Works with any mix of Sonos components
– Compatible with all previous generations of Sonos players, CONTROL, and SONOS BRIDGE
Play a different song in every room, at the same time
Tune in to an Internet radio station in the bedroom, stream a music service in the kitchen and play a song from your music library in the living room — simultaneously.
Listen to the same song in every room, in perfect synchronisation
Play the same song in different rooms, simultaneously, without echoes or delays. Add or drop rooms from your rooms grouping and still be in sync.
Simple setup and expandable design
Simple setup
No technical or wireless expertise required. Put a SONOS Connect AMP in any room where you want music and connect it to your home WiFi network using the free Sonos Controller App. The Sonos System Setup software provides simple on-screen prompts on any Sonos CONTROL. With the touch of a few buttons, you'll be play music all over the house in minutes.
Expandable wireless system
Expand your music system room by room — without adding wires. Add new Sonos components with the press of a single button.
Nhận xét sản phẩm
Thời Đại Công Nghệ .VN khuyến khích quý khách nên bình luận hoặc đánh giá về SONOS Connect AMP để chúng tôi phục vụ quý khách tốt nhất.